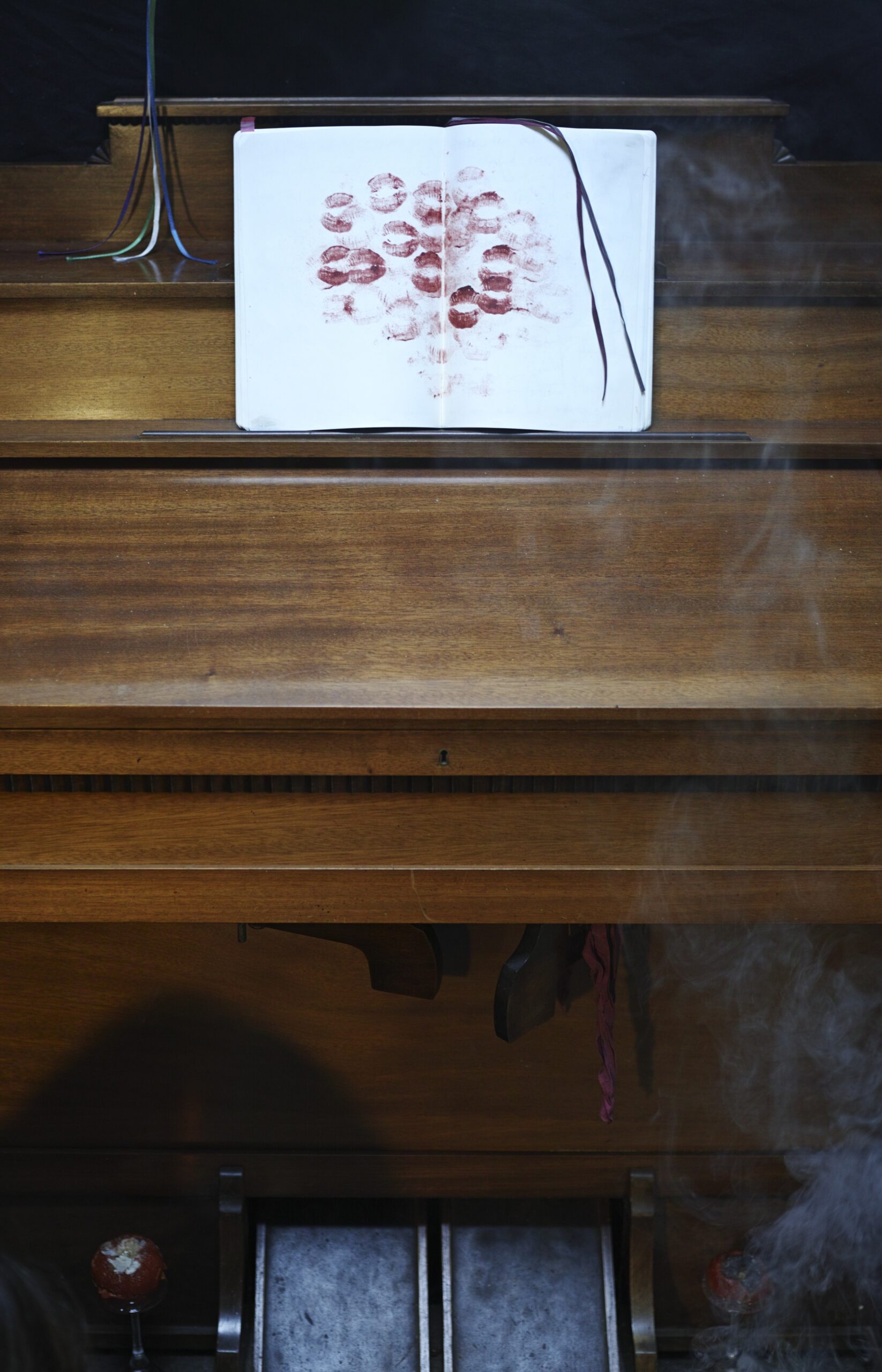 …scroll down for English.
Performances 28. 29. 30. september &
3. 4. oktober ´23
@Østre Kapel, Sydhavn Teater
Billetter/Tickets HER
Skriv til os på mail(at)moribund.dk hvis du vil have en fribillet /
Write us at mail(at)moribund.dk if you want a free ticket
💘
EN TJENESTE er en performance der lægger sig henover liturgien i det protestantiske tjeneste-ritual
og bruger det som tekstlig og koreografisk model.
Ligesom én lægger sig henover den elskedes krop – eller henover mindet om den elskede skat,
dig, som jeg var så euforisk forelsket i.
Ligesom én lægger sig ind under skam over at være ulykkelig forelsket.
Ligesom det er en triumf at være i en anden og cirkulær tid.
Ligesom vi – der performer i dette ritual sammen – udforsker vores følelser.
Præcis ligesom vi ikke er ens.
Ligesom vi har arvet en sørgelig og heteropatriarkalsk kærlighed
i dåbskjole, konfirmationskjole, brudekjole og ligklæde.
Ligesom de elskede har gjort os til mystikere
fordi vi skriver på tværs af tid og rum, tolker tegn og har fået magiske ting.
Ligesom vi inviterer publikum til at deltage i ritualet;
i sangene og i vodkanadveren og drypper sød spyt i hjertesåret.
Ligesom vi lægger os i modervors sofa, og i lyset fra det åbne køleskab beder til,
at vores kærlighed må løsrive sig fra afhængighed og mangel.
Ligesom vi ringer til bedstemodervor på kirkegården, fra det orgel der stod i hendes stue,
og fortæller, at vi vil sætte stjerneformet begær om hinanden.
Støttet af Statens Kunstfonds Scenekunstudvalg og Statens Kunstfonds Billedkunstudvalg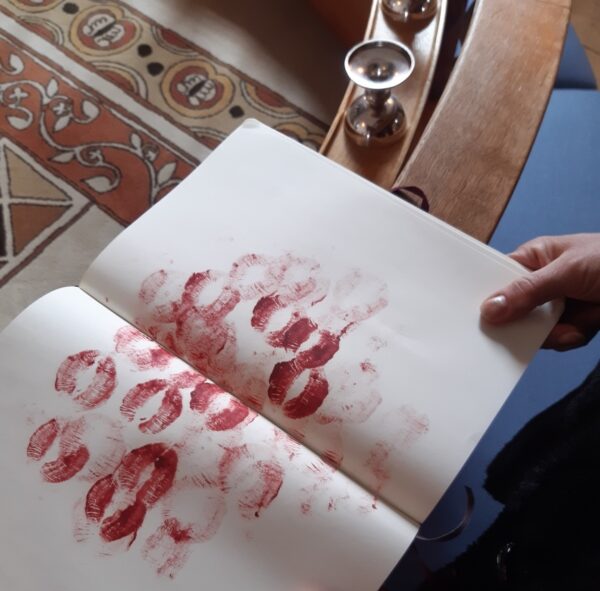 A SERVICE lays itself upon the liturgy of the protestant service ritual and uses it as a textual and choreographic model.
Like one lays onto the body of the beloved – or over the memory of the beloved, you, with whom one was so euphorically in love.
Like one cowers with shame of being unhappily in love.
Like it is a triumph to be in another and circular time.
Like we – who perform in this ritual together – explore our feelings.
Just like we are not the same.
Like we have inherited a sad and heteropatriarchal love in christening dress, confirmation dress, wedding dress and shroud.
Like the lovers have made us mystics because we write across time and space,
interpret signs and receive magical things.
Like we invite the audience to participate in the ritual; in the songs and in the vodka communion and drip sweet spit into the wound of the heart.
Like we lay down on our mother's couch, and in the light of the open fridge, pray,
that our love will detach itself from addiction and lack.
Like we call our grandmother in the cemetery, from the organ that stood in her living room, and tell her how we will adorn each other with a star-shaped desire.