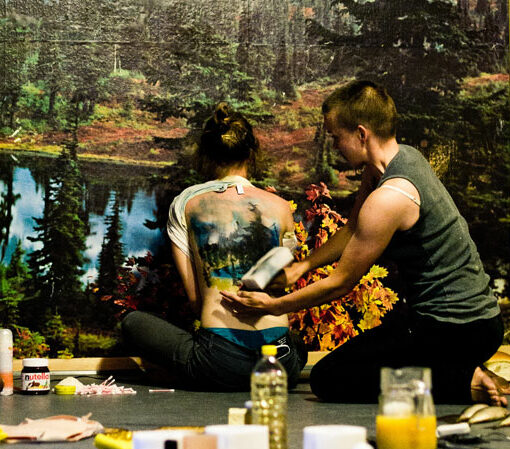 Et animeret tableau af ting der brister, glemmer at bruge kondom, nedslides, ængstes, bevæger en muskel, opereres, tørster og fordøjer, kæmmes for lus,holder op med at ryge,suger væske, vasker sig, bløder, husker at køre med cykelhjelm, ammes, har mælkehvide hinder for øjnene og leder efter tegn på en krop.
En aktiv/passiv-koreografi.
An animated tableau of objects that bursts, forgets to use a condom, wears down, gets anxious, moves a muscle, gets operated, thirst and digest, is being combed, quits smoking, sucks fluid, washes, bleeds, remembers to wear a bi-cycle helmet, breastfeeds, has milky white eyes and searches for a sign of a body.
An active/passive -choreography.
K/CHoreografi &objekt(s)er: Sara Hamming
Performer(s)e: danc/ser Titta Soini og dukkespiller/puppeteer Astrid Kjær Jensen
Research & interviews: Birgit Jensen Hamming
Video-dok/cumentation: Lotte Oldenburg
Ph/F/otos: Søren Meisner
Varighed/Duration: 3 timer/hours.
At RISK-festival, Warehouse9,  Entréscenen/Bora Bora