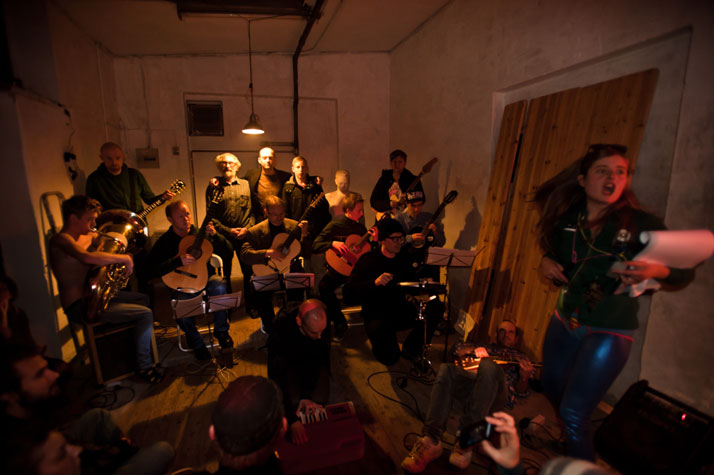 Bloody Mary #3 II
Lidt kongelig har man da lov at være!
19 hvide mænd instrumentaliseret som Kongefamilien.
Kongefamilien gennemspiller 16 intervaller om fattige mødre, mode, krig og kærlighed, nødhjælp og kunst-parnas.
Det musikalske tema for performance er Händels barokke kroningshymne " My hearth is inditing" spillet på guitarer, trommer, tuba og støvsugerorgel.
One is allowed to be a little royal!
19 white men instrumentalized as The Royal Family.
The Royal Family plays through 16 intervals about poor mothers, fashion, war and love, charity and art parnassus. The musical theme of performance is Handel's baroque coronation hymn "My hearth is inditing" played on guitars, drums, tuba and vacuum cleaner-organ.
Dirigent/Conductor:
Sara Hamming
Kongefamilien/The Royal Family:
Thomas Arnils – trommer/drums
Marc Kellaway – støvsugerorgel/vacuum cleaner-organ
Kristian Tangvik – tuba
Martin Breidahl-Nielsen – guitar
Oliver Hoiness – guitar
Mika Katz – guitar
Michael Ladehoff – guitar
Jens Overbye – guitar
Victor Brody – guitar
Carl-Erik Gippert – guitar
Niels Junior – sang og dans/singing and dancing
Gustav Carl Rey Henningsen – sang/singing
Rumle Krarup – dans og guitar/dance and guitar
Christian Adelhorst Rossil – dans og audiens/dance and
Michlas Brosé – dans/dance
Niels Henrik Hartvigson – dans/dance
Søren Meisner som fotograf/as photographer
Kristofer Krarup som bålmester/tending to the fire
Martin Kufahl som dronning Dagmar lit de parade/as queen Dagmar lit de parade
Performancen blev vist i Astrid Noacks Atelier 3. nov. 2011
Støttet af Nørrebro Lokaludvalg