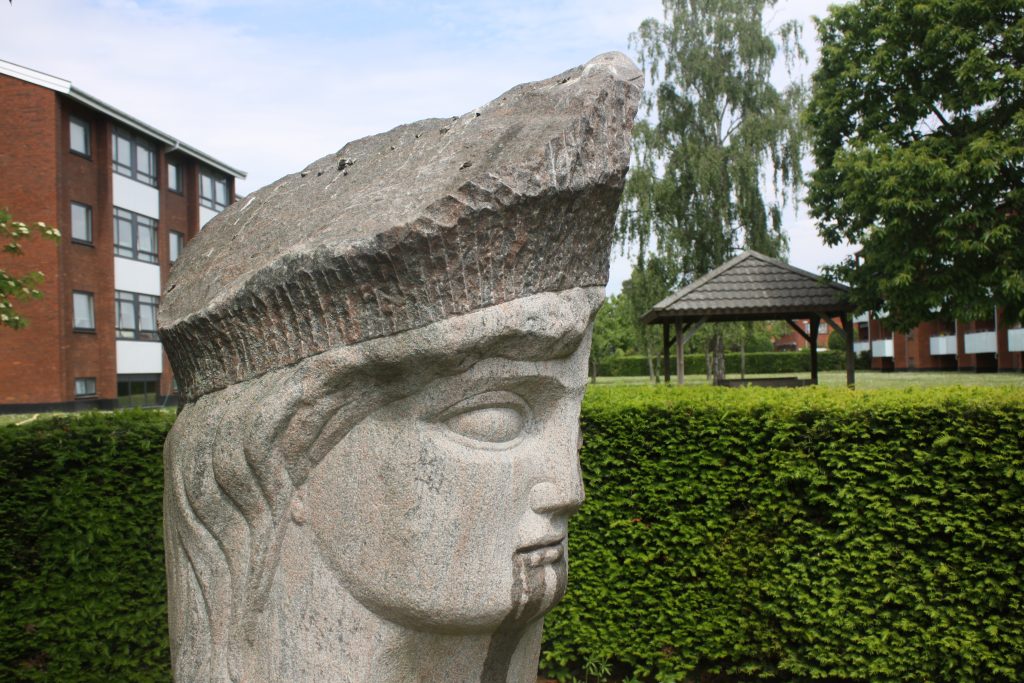 Our Spitting Image was first performed at Tårnby Park Performance Festival June 2021 – we will work toward a new version, in the meantime, here is a little reflection of what we have done and what we would maybe like to do in public space in the future:
The performative gluer, make-up as well as essence of Our Spitting Image is spit, the transparent fluid coming from the mouth. Spit can be applied lovingly in kissing, spit can be applied as an insult. Spit can appear dense as a pool or can mix aerosol with the air. Each drop is a little screen of possibilities for multifaceted contamination. Each drop is built from the metabolism of the body. Without spit there is no speech and no digestion. Spit has an elastic temporality hence it´s long drying time after having left the body, i.e. on a pavement.
At face value the title Our Spitting Image suggests likeness – on a further inspection it also suggest projection: we soak and project our way through phenomena related to spit in mediated and playfully loving ritualistic performative situations:
Due to corona-restrictions Our Spitting Image was initially developed and performed between a little lawn in Skopje and a rose bed in Tårnby. Nevertheless we would water both the lawn and the roses with the gathered spit of the audience in a bucket. We interviewed a resident of Tårnby Park, Nicole, who is amorously expansive, mainly in terms of friends, who in turn would be jealous of the way she would attract new friends. Oh, all the lovely kissing she had done in the green surroundings, at one point turning a bench around in order to kiss underneath it. She was meant to be on the performance floor, but was hospitalized in the middle of the rehearsals. Instead Aleksandar would affirm each of her sentences, re-coundted by Sara, with a "yes".  Aleksandar was not visible on screen but only there by sound. Afterwards Sara would describe the now impossible physical caress on Nicoles arms, with shiny spitways running down her own arms the choreography of the spit described by Aleksandar.
As Barthes is pointing out in A Lover's Discourse, being jealous is believing that there is a love to lose.  And yes, there was a love from the audience that Aleksandar was missing by not being there;
How would Aleksandar interact lovingly if he had been there? He was so jealous of Sara, of the audience, he was supposed to be there too! Instead he was an image on a wall he believed himself, but what the audience could see was that his cheeks and mouth would become brilliantly shiny with multiple little screens when Sara applied spit down the corners of his mouth. His jealosy would thus project into action.
Jealousy is dancing around love, beside love, when you are jealous you are not existing for yourself, but overtaking the body of someone elses desires as a thought figure. Similarly, if you're poor and in other ways marginalized, the architecture and spatial design doesn't allow you to see yourself existing in neighborhoods designed for the privileged i.e. narrow sidewalks, not meant to walk on. Hostile sharp street lighting not meant to meet under, benches not meant to sleep on etc. Moreover, when you are not allowed, you are expected to be jealous and envious. But there are more loving ways:
Working through jealousy does not equal accepting things, but requires you to be there, to show up. So we will figure out different ways to be there. Hence the teleportic quality of the performative seance in Tårnby, recalling Nicole and her love life. Hence the silence in public space of the loved and the jealous we would love to project performative and playful teleportations of jealous and loving speech into both open and closed spaces in an even more poetic and multilayered seance-like way
We would like to play with a scribe-to-sound-technology, making it possible to have the speech rebuild itself like spit – and project it; We want to rub the loving desires of public space. Inspired by the way bacterias in spit make love. Inspired by the way that spit pools shine on pavements. Spit is a little dangerous nowaday, we respect that and thus want to bring the image of spit forth as sensual as we can, because the lack of love is dangerous too. So we will find ways to do collective spitting with the audience, watering of roses and skin-spit choreographies, possibly also projected by screens.
Public space is a place where we are not that present anymore, but if we can be present as wet spitting images in the reflection on someone elses arms and if our feelings of displacement and feelings of being unloved could find a way to be told, through someones mouth if not our own – wouldn't that be lovely?
The spit, the body, the jealousy, the love, the needs of the rose
The spit, the body, the jealousy, the love, the needs of  Ace
The spit, the body, the jealousy, the love, the needs of  Sara
The spit, the body, the jealousy, the love, the needs of  the little chewinggum body
The spit, the body, the jealousy, the love, the needs of  the little clay body